At US Kitchen Cabinet Mall, we specialize in crafting high-quality Ready to Assemble (RTA) cabinets. Our range offers a versatile assortment of styles, designs, and finishes, suitable for diverse needs and aesthetics. Committed to using robust materials, we ensure durability and functionality in each cabinet we produce. As a leading RTA cabinet factory, we're dedicated to transforming homes with cost-effective, easily customizable solutions. Let us help bring your interior design visions to life.
Best Ready To Assemble Cabinets
Top 10 Characteristics
SHERWIN-WILLIAMS 14-Step Finishing Process
All of our Ready To Assemble Cabinet wood doors and drawer fronts receive SHERWIN-WILLIAMS's 14-step finishing process, resulting in one of the finest finishes in the industry. From the initial sanding to the final finish application, each piece of cabinetry is made to your exact specifications by our skilled craftsmen.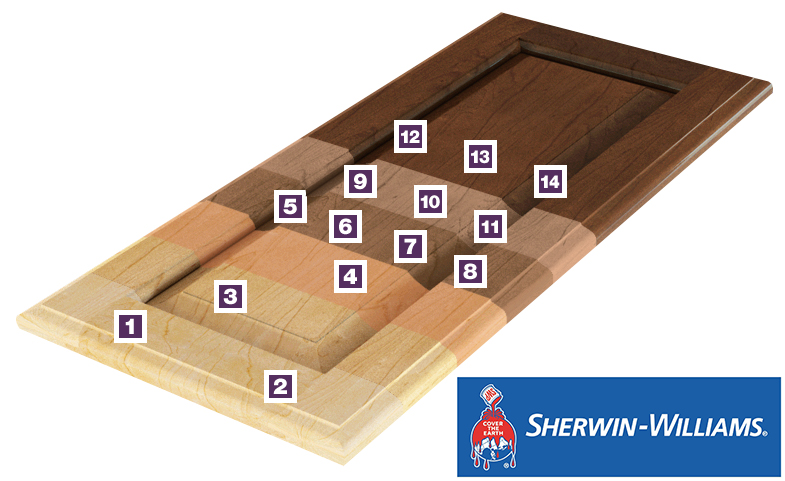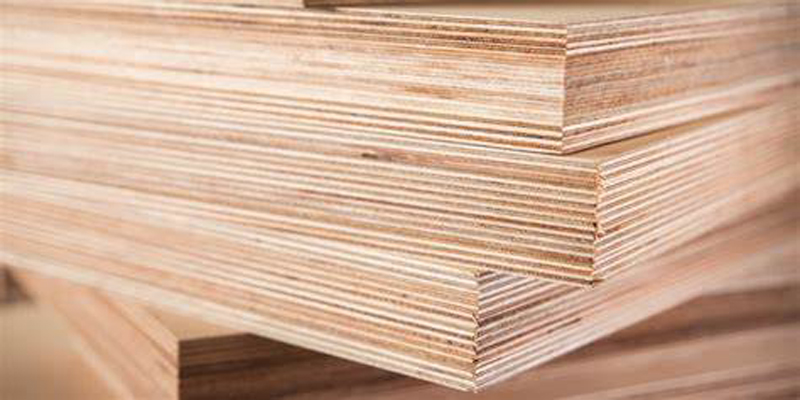 All-plywood construction
RTA cabinet boxes are typically built of plywood. The most robust cabinets have full plywood sides and backs to stay square during delivery and installation, handle the weight of heavy countertops, and resist damage from moisture.
Dovetail Construction
All of our Ready To Assemble Cabinets are required use of dovetail construction. A process that involves plywood side panels to perfectly interlock with a solid wood face frame through corresponding dovetail grooves. This highly resilient technique introduced to the market guarantees that cabinet lines are secure, strong, and long-lasting.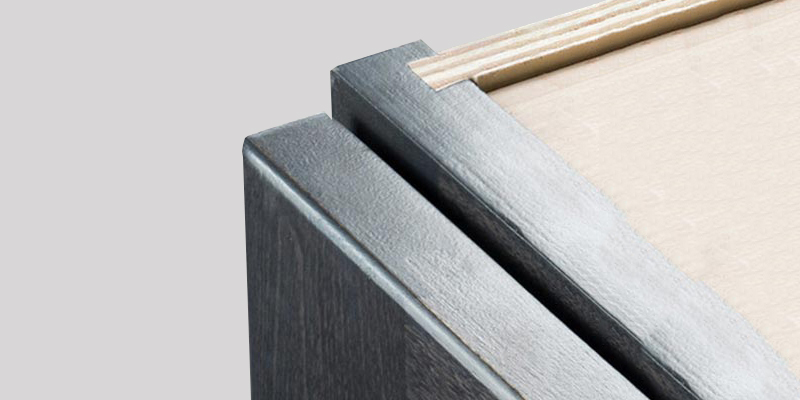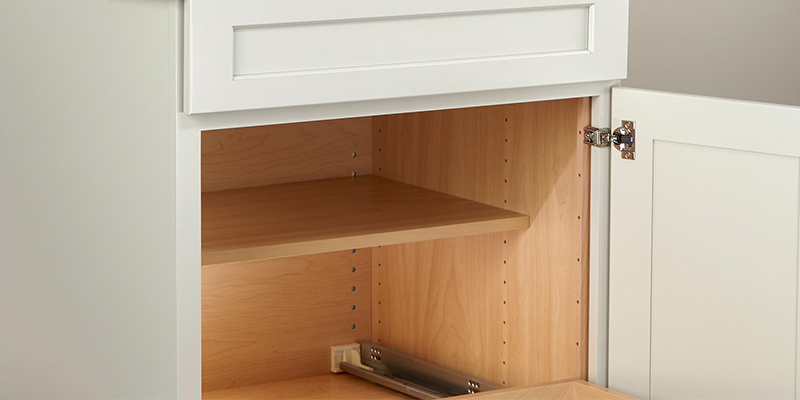 Anti-Warp Structures
The anti-warp component involves the use of plywood panels comprised of rigid reinforcement beams. By applying the beams with a dovetail construction technique to secure all components, our cabinet meets this standard ensuring a strong, reliable build that is resistant to distortion.
Corner Blocks
To ensure a unified and organic design build, our Ready To Assemble Cabinets lines with plastic corner blocks, which keep the purity of cohesive construction.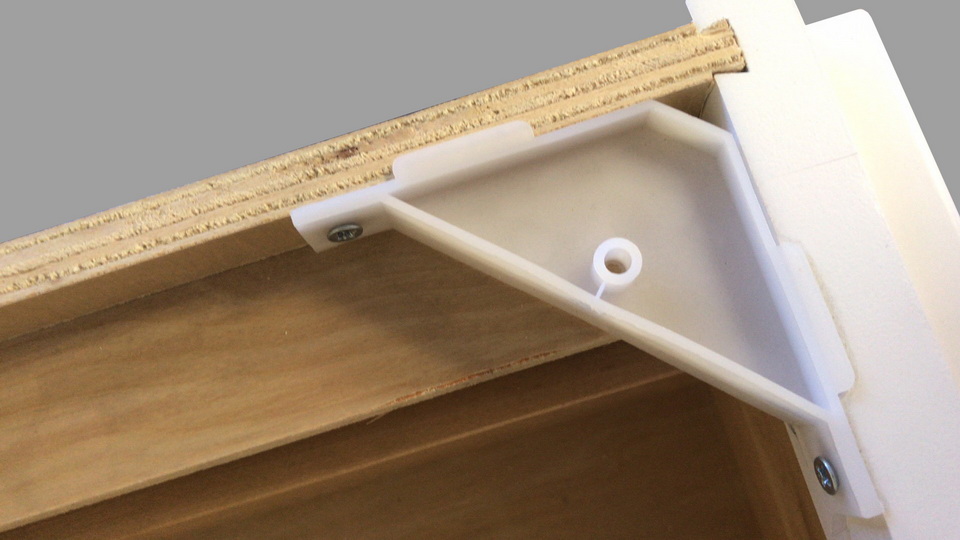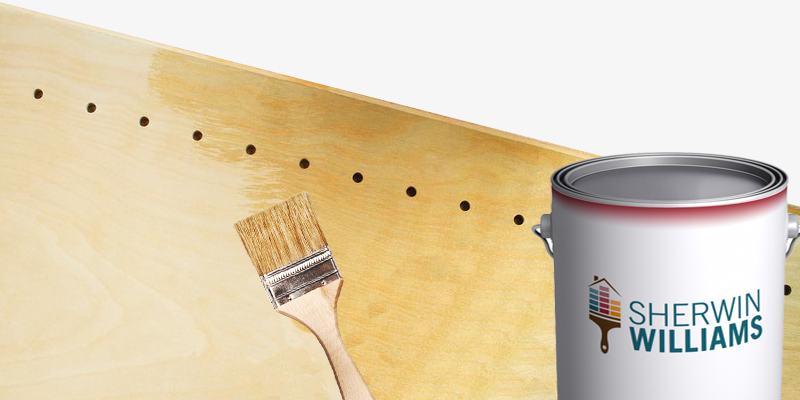 Treated & Finished Cabinet Interiors
Treated and finished cabinet interiors are another significant feature of our Ready To Assemble Cabinets as they produce a clear statement of quality and attention to detail. As opposed to manufacturing with an applied lining, Our vigorous top treatment techniques create a refined and durable design that is free of bubbling, peeling and chipping.
Solid Back Builds
For superior structural longevity, the back of a cabinet is constructed from one piece of solid half-inch plywood. Our Ready To Assemble Cabinets backs with a strong and single piece of plywood to ensure durable strength and dimensional stability.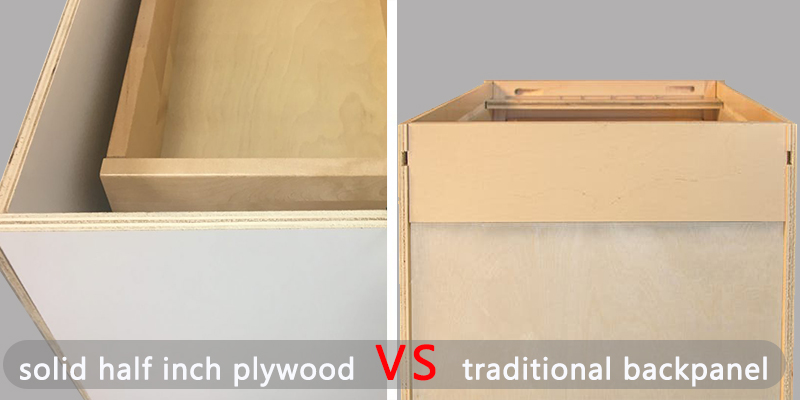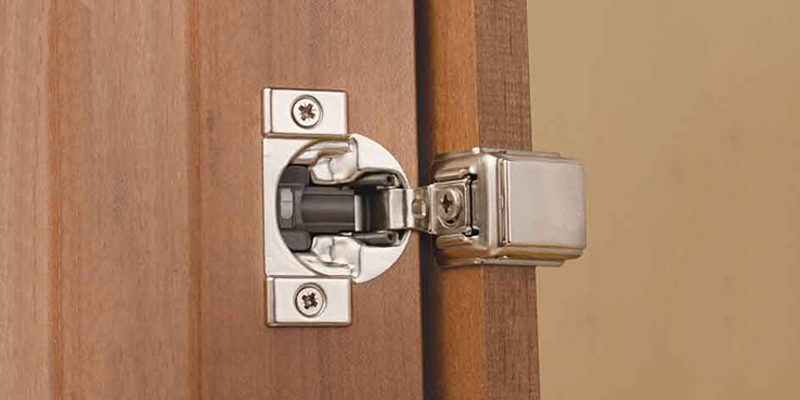 Soft-Closing Hinges
Our Ready To Assemble Cabinets use of compact hinges with built-in, soft-close mechanism providing an impeccably gentle and fluid cabinet function.
Full-Extension Soft Closing Drawer Glides
The smooth full-extension soft-closing technology glides guarantee an enhanced running action that maximizes a cabinet's storage to its full capacity, precisely utilizing space while also preventing damage and depreciation.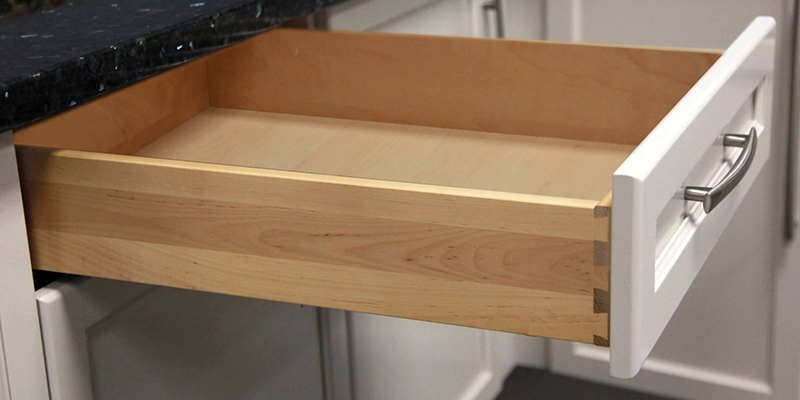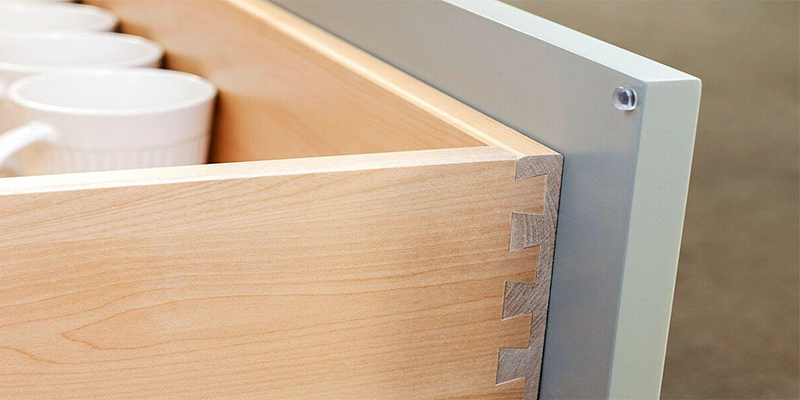 Drawer Face
To ensure proper door alignment and function, Ready To Assemble Cabinets requires an effortless system utilizing a degree of mechanical precision for installing perfectly positioned drawer faces. We innovates with a unique technique using circular discs that allow for easy 3/8" adjustments in any direction, resulting in a kitchen cabinets wholesale that achieves an aesthetically graceful balance.
Ready To Assemble Cabinets
Ready to assemble (RTA) cabinets are a popular choice for many homeowners and renters looking to upgrade their kitchens or bathrooms on a budget. Ready to assemble cabinets come flat-packed and require assembly before installation. They offer an affordable alternative to custom cabinetry, with more options for customization than stock cabinets. This overview will cover the key things to know about Ready to assemble cabinets, including pros and cons, costs, materials, quality, and best practices for assembly and installation.
What are Ready to assemble cabinets?
Ready to assemble cabinets, also known as ready-to-assemble cabinets, are shipped to customers in a flat pack along with all the hardware and components needed for assembly. Ready to assemble cabinets must be put together before they can be installed. The term RTA simply refers to the assembly method - it does not indicate the quality, material, or construction of the cabinets themselves. Ready to assemble cabinets are available in a wide range of styles, finishes, and price points. The main advantage of Ready to assemble cabinets is their lower cost compared to custom or semi-custom cabinetry. Because Ready to assemble cabinets ship flat, they are more affordable to produce and ship directly to the customer. The end user takes on the assembly, allowing costs to be kept lower. Ready to assemble cabinets provide a budget-friendly solution for upgrading kitchens, baths, laundries, and other spaces.
Pros of Ready to assemble cabinets:
Lower Cost: Ready to assemble cabinets are up to 50% less expensive than custom cabinetry.
Convenience: Ready to assemble cabinets ship directly to your home. No need to source cabinets locally.
Customization: Ready to assemble cabinets offer more custom options than stock cabinets. Modify sizes, finishes, and configurations.
Quality Materials: Ready to assemble cabinets are available in quality hardwoods, plywood, and engineered wood. Durability depends on construction.
Easy Installation: RTA cabinet boxes install just like custom cabinets. Save on labor costs.
Quick Replacement: Damaged Ready to assemble cabinets can be easily replaced without replacing whole kitchen.
Cons of Ready to assemble cabinets:
Self-Assembly: Ready to assemble cabinets require assembly and some DIY skills. Poor assembly can lead to issues down the road.
Limited Sizes: Ready to assemble cabinets come in set sizes, though some customization is possible. Won't match exact dimensions of a space.
No On-Site Assistance: If questions come up during assembly or installation, you're on your own.
Can't See Before Buying: Ready to assemble cabinets cannot be viewed in person before purchase like stock cabinets.
Potential Hidden Costs: If paying for assembly/installation, the cost savings decrease. Delivery fees also add up.
Shorter Lifespan: Inexpensive materials and improper assembly may shorten lifespan vs. custom cabinets.
Variation in Quality: RTA cabinet quality varies widely. Research carefully to find durable options.
Cost of Ready to assemble cabinets
Ready to assemble cabinets range in price from $50 per cabinet for low-end options to $500+ per cabinet for high-quality wood cabinets. The total cost of an RTA kitchen will depend on factors like:
Quality/Brand: Higher-end brands generally use better materials and construction.
Door Style: Simple slab doors are least expensive. Drawers, panels, and ornamentation increase costs.
Material: Thermofoil and laminate cabinets cost less than real wood or solid wood veneer.
Size of Kitchen: More and larger cabinets equal a higher total cost.
Specialty Storage: Options like rollouts, blind corner cabinets, and pull outs increase per cabinet cost.
Hardware: Sturdy, soft-closing hinges and drawer glides increase durability and cost.
Delivery: Shipping costs add several hundred dollars depending on location.
Assembly/Installation: DIY assembly saves money but can add $1000+ for professional help.
Expect to spend $3000 to $5000 for a medium-sized RTA kitchen with decent quality laminate cabinets. Higher-end wood RTA kitchens cost $8000 to $15,000 or more. Compare quotes across brands to find the best value for your budget.
Materials Used for Ready to assemble cabinets
RTA cabinet companies use a range of materials, from lower-cost particleboard and plastic laminates to solid hardwoods. Typical RTA cabinet construction includes:
Particleboard: Lower cost wood particles pressed into sheets. Used for cabinet box and shelves.
MDF: Medium density fiberboard has more density than particleboard. Provides sturdy construction.
Plywood: Layers of wood glued together and laminated provide strength. Used for sides, doors, and face frames.
Melamine: Thermally fused plastic laminate coating on particleboard. Scratch and stain resistant.
Laminates: Plastic resin laminates bond to particleboard. Popular for low-cost cabinet boxes and doors.
Wood Veneers: Thin sheets of real wood adhere to core material like MDF or plywood. Provides realistic wood look.
Solid Wood: Kiln-dried hardwoods like oak, maple, and cherry used for doors, drawers and frames. Most expensive option.
Higher quality Ready to assemble cabinets utilize plywood boxes, solid wood doors and drawers, and strong joinery for durability. Check materials to assess quality.
Construction Quality of Ready to assemble cabinets
While RTA refers simply to ready-to-assemble, cabinet quality can range from flimsy kits to sturdy options rivaling custom cabinets. Ensure your Ready to assemble cabinets stand the test of time by assessing:
All Plywood Box: Plywood sides, back, top and bottom last longer than particleboard.
Dovetail Joints: Dovetails connect drawer boxes for superior strength. Avoid glued joints.
Soft-Close Hardware: Drawers/doors close slowly and quietly with soft-close slides and hinges.
Adjustable Shelves: Shelves that adjust on pin holes offer flexibility. Avoid fixed shelves.
Full Overlay Doors: Doors that fully overlay the cabinet box have a seamless look.
Thick Face Frames: Solid wood frames 1 1⁄2" thick or more add stability and structure.
Finishing Touches: Look for finished cabinet interiors, finished ends, and matching interiors/exteriors.
Carefully inspecting construction and hardware will help identify well-made Ready to assemble cabinets that will hold up to years of use. Don't assume RTA means poor quality.
Best Materials for Ready to assemble cabinets
While budget plays a key role in material selection, prioritize quality where it counts most:
Plywood Cabinet Boxes: Look for 1⁄2" thick plywood sides, tops, bottoms and cabinet backs. Avoid particleboard.
Plywood Doors and Drawer Fronts: Opt for 5/8" thick plywood over MDF or particleboard.
Solid Wood Doors and Drawer Fronts: For painted cabinets, choose 1⁄2" thick poplar or maple. For stain, select oak, cherry, or maple veneers over MDF or plywood cores.
Solid Wood Face Frames: Look for kiln-dried oak, maple, hickory or poplar frames, 1 1⁄2" thick or more.
Plywood Drawer Boxes: Dovetailed plywood drawers resist warping and cracking better than particleboard.
Soft-Close Drawer Slides: These prevent slamming and provide a luxury feel. Prioritize for lower drawers.
Focus your budget on structural elements and parts that get heavy wear. Save on interior finishes and decorative doors.
RTA Cabinet Door Styles
Ready to assemble cabinets come in a wide selection of door designs to suit any decor. Consider visual appeal along with aspects like ease of cleaning.
Slab Cabinet Doors
Slab: Simple flat panel design works with every cabinet style. Paint or stain grade options.
Shaker: Recessed center panel adds dimension. Versatile for traditional to contemporary aesthetics.
Slab with Profile: A carved edge detail dresses up a basic slab. Good balance of style and affordability.
Framed Cabinet Doors
Raised Panel: Central recessed panel has a "raised" rim. Traditional elegance, works on formal to casual kitchens.
Cathedral: Arched top rail and optional glass insert provide striking arched doors.
Beadboard: Grooved, vertical board look offers cottage charm. Great on islands and aprons.
Specialty Cabinet Doors
Glass Insert: Add a window to top portion of doors. Generates open and light feel.
Mullion: Metal or wood strips divide large doors into multiple glass panes. Customizable elegance.
Cafe: Bifold doors save space and create open shelving look. Best on wall cabinets.
Mix and match door styles for visual interest. Consider your overall decor, lifestyle, and budget.
Choosing RTA Cabinet Finishes
Ready to assemble cabinets come with finished exteriors or ready for paint or stain. Consider maintenance, durability, and style preferences when selecting a finish:
Painted Cabinet Finishes
White: Crisp, bright white fits any style. Easy to paint other colors. Shows dirt.
Gray: Versatile neutral works on modern to traditional kitchens. Hides grime well.
Color: Vibrant painted cabinets make a bold statement. Consider cream, blue, green and more. Shows dirt.
Wood Stained Cabinet Finishes
Golden Oak: Rich, warm brown complements traditional styling. Shows dirt less than lighter stains.
Cherry: Sophisticated reddish brown works on formal cabinets. Ages gracefully to a darker patina.
Maple: Light, creamy white finish brightens a space. Requires diligent cleaning.
Espresso: Nearly black stain provides dramatic contrast. Shows dust but easy to maintain.
Laminate Cabinet Finishes
White: Bright white laminate is affordable option for clean look. Seams more visible than painted finish.
Woodgrain: Textured to mimic oak, hickory, maple and other wood species. Durable and disguises grime.
Color Laminates: Glossy options in reds, blues, greens and more. Resists fading but shows scratches.
Consider durability, ease of cleaning, visibility of dirt and seams, and aesthetics when selecting the ideal finish.
Quality Control with Ready to assemble cabinets
The RTA cabinet buying process is different than purchasing stock or custom cabinets. You cannot see the cabinets in person before having them delivered. Thoroughly research companies and read reviews online to get a sense of quality and customer service. Here are some other tips:
Request Samples: Many companies will send you free finish and door samples to view quality.
Ask About Warranties: Good RTA companies offer warranties of at least 1 year on defects. Lifetime is ideal.
Read Specs Carefully: Check materials, dimensions, and hardware info to catch any discrepancies.
Take Precise Measurements: Measure your space carefully to ensure a perfect fit.
Order Samples: Purchase samples of 1-2 cabinets first. Assemble them and inspect for any damage or flaws.
Keep Packaging: Don't discard any original packaging until you've assembled all cabinets and ensured there are no defects or missing pieces.
Take steps to thoroughly vet an RTA cabinet company before purchasing an entire kitchen. Paying close attention helps avoid headaches down the road.
How to Assemble Ready to assemble cabinets
Assembling Ready to assemble cabinets takes some DIY skills, patience, and attention to detail. Proper assembly is crucial for functionality and longevity. Follow these best practices:
Review Instructions: Read all instructions thoroughly before starting. Make sure you understand each step.
Organize Parts: Unpack cabinets and hardware and group like parts together. Confirm you have all components.
Work on Clean Surface: Choose a wide, sturdy worktable. Keep area clean and free of debris.
Follow Steps Exactly: RTA instructions are optimized for ease and proper assembly. Don't take shortcuts.
Secure Properly: Use provided hardware and tighten appropriately. Don't strip or cross thread screws.
Check Fit: During assembly, test fit doors, drawers, and shelves to ensure proper alignment.
Use Power Drill: A drill with clutch adjusted prevents over-tightening. Work slowly and carefully.
Get Help for Large Cabinets: A second set of hands helps manage large cabinets and prevents damage.
Use Levelling Feet: Screw in provided levelling feet at the bottom of base cabinets.
Rushing through assembly or skipping steps compromises durability. Take your time to assemble cabinets properly.
Installing Your RTA Kitchen Cabinets
With meticulous assembly complete, it's time to install your Ready to assemble cabinets. Installation is similar to stock cabinetry. Here are some tips:
Work With a Partner: Recruit a helper to hold cabinets in place while fastening to walls. Makes the job much easier.
Check for Plumb and Level: Confirm your walls are square and floor is flat. Use shims where needed.
Start With Corner Cabinet: Set corner cabinet first. Work outward to establish kitchen footprint.
Screw to Wall Studs: Use provided screws and pre-drill holes to attach to studs, not just drywall for sturdiness.
Use Spacers: Keep consistent gaps between cabinets with small spacers as you work across the kitchen.
Assemble Base Cabinets: Connect adjacent cabinets tightly at sides and front. Secure together.
Hang Wall Cabinets: Mount wall cabinets directly to studs, not just on hanging rail.
Apply Decorative Trim: Finish the look with matching trim pieces, molding, and end panels.
Take care to install cabinets securely. If desired, hire a contractor for installation while handling assembly yourself.
Pros and Cons of Professional RTA Cabinet Assembly
Because Ready to assemble cabinets ship flat packed, buyers must assemble them before installing. You can tackle assembly yourself or pay a professional. Here are some pros and cons of hiring assembly help:
Pros of Professional Assembly
Eliminates work of reading instructions and assembling cabinets yourself.
Provides expertise if you don't feel confident in your DIY skills.
May offer warranty on proper assembly.
Saves time - fastest way to get cabinets assembled.
Ensures cabinets assembled correctly for proper functioning.
Allows you to focus energy on designing your new kitchen.
Cons of Professional Assembly
Adds $600-$2000+ to overall cost of Ready to assemble cabinets.
Reduces ability to customize cabinets. Professionals will assemble per instructions.
Quality of assembly depends on specific company/person hired.
Wait time for assembly appointment may delay project.
Still need to do some prep work like unpacking cabinets.
Defects may not be noticed until after installer leaves.
Weigh time, cost, expertise and convenience when deciding between DIY vs. professional assembly. Inspect finished cabinets closely either way.
How Much Does RTA Cabinet Installation Cost?
Installing Ready to assemble cabinets costs $50 to $100 per cabinet on average if hiring a professional. Rates vary based on your location and the installer's experience. Expect to spend $1500 to $4000 total for installation of a medium sized kitchen.
Cost Factors for RTA Cabinet Installation
Size of the kitchen space and number of cabinets
Basic install vs. additional trim, molding, lighting, etc
Accessibility of the space and prep work required
DIY vs. hiring an experienced cabinet installer
Geographic location and cost of living
General contractor vs. dedicated cabinet installer
Speciality storage installations like rollouts and pull downs
You can save 50-75% on installation costs by putting together and installing Ready to assemble cabinets yourself. Reduce expenses further by recruiting a handy friend or family member to assist. Carefully follow all manufacturer's instructions. If opting to hire a pro, find installers who specialize in cabinets for best results. Confirm they have experience with RTA cabinet installation specifically. Thoroughly check their reviews and examples of past work.
Finding Quality RTA Kitchen Cabinet Brands
The RTA cabinet market includes brands ranging from cheap, poor quality to durable, highly customizable products. With some research, it's possible to find Ready to assemble cabinets comparable to semi-custom options. Look for these traits in a quality brand:
Wide range of sizes: Lots of width, height, and depth options for a customized fit.
Plywood box construction: Avoid brands using particleboard for sides, backs, floors and ceilings.
Kiln dried solid wood: Ensure wood doors, drawers, and face frames are fully dried, not green wood.
Fully finished cabinet interiors: Finished cabinet box interiors indicate attention to detail and quality.
Dovetail joinery: Dovetailed drawers last longer than simple glued joints.
Soft-close hardware: Look for soft-close drawer slides and door hinges for smooth operation.
Positive online reviews: Check reviews and complaints for red flags like missing parts, damage, or poor quality.
Responsive customer service: The brand should provide multiple ways to get questions answered promptly.
Thoroughly researching RTA cabinet brands is key to finding durable products that will function well long-term.
Common Problems with Ready to assemble cabinets
While Ready to assemble cabinets offer an affordable kitchen upgrade, improper assembly or low-quality materials can cause issues over time. Watch for these potential problems:
Warping doors or fronts: Caused by low density fiberboard construction or failing to properly acclimate wood before assembly.
Yellowing finishes: Cheap laminates and thermofoils can yellow quickly when exposed to light. Higher quality laminates resist fading.
Peeling finishes: Both laminate and painted finishes can peel if bonding agents fail or surfaces not properly prepared before finishing.
Breaking joints: Weak glue, improper fastening, or outdated fasteners can cause joints to loosen or break over time and use.
Failing drawers and doors: Improper assembly or inadequate slides and hinges lead to failing mechanisms and alignment issues.
Chipping surfaces: Low density fiberboard and particleboard chip easily, while plywood edges and solid wood are more durable.
Sagging shelves: Insufficient bracketing, poor shelf thickness, or overloading can cause sagging fixed shelves.
Researching materials and construction is the best way to avoid issues. Carefully inspect cabinets on arrival before assembly and contact the company for any damage or defects.
How to Care for and Maintain Ready to assemble cabinets
A bit of careful maintenance keeps any kitchen looking its best. Here are some tips for caring for Ready to assemble cabinets over time:
Wipe spills promptly to avoid stains and damage, especially on wood finishes.
Clean cabinet surfaces regularly using a mild cleaner and soft cloth. Avoid abrasive cleaners.
Use a duster to remove dust, grease, and debris buildup. Pay attention to cabinet tops and edges.
Inspect hinges and slides. Tighten any loose screws. Lubricate to prevent squeaking.
Avoid spraying cleaners directly on cabinet surfaces. Excess moisture can damage finishes and seep into joints.
Touch up any nicks in painted cabinets using the original paint for seamless results.
Reseal wood countertops and finishes yearly to protect from moisture damage.
Clean glass cabinet inserts thoroughly and check for any cracks. Replace immediately if any form.
Adjust or tighten any loosening joints, hinges, or hardware. Don't allow issues to compound.
With proper care, quality Ready to assemble cabinets will function beautifully and look like new for over a decade. Invest in durable cabinets and maintain them properly.
How to Modify and Update Ready to assemble cabinets
Even quality Ready to assemble cabinets may need modifications or updates over time. Changing tastes, new functions or wear and tear prompt kitchen remodels. Ready to assemble cabinets offer more ways to modify and update affordably. Consider these options:
Update Door Fronts
Replace slab doors with new recessed panel doors for an updated look.
Switch solid wood stained doors to painted doors for a fresh feel.
Add new hardware like knobs, pulls, or handles to give doors a new style.
Adapt Storage Solutions
Add rollouts, lazy susans, and other organizational accessories.
Install an under-cabinet lazy susan for specialized storage.
Convert a cabinet to pull-out trash and recycling center.
Replace Damaged Parts
Only need to replace the damaged door or drawer, not whole set.
Quickly swap out broken slides, hinges, or shelf brackets.
Fill holes or dents in cabinet boxes with wood filler before refinishing.
Change Finishes
Paint stained or laminate cabinets using sanding and priming.
Update existing paint color for dramatic impact.
Refinish cabinets and apply new wood stain color.
RTA cabinet components make renovations faster, simpler and more affordable than replacing built-in cabinetry.
Decorating with RTA Kitchen Cabinets: Design Ideas and Tips
Ready to assemble cabinets offer almost endless possibilities for achieving your dream kitchen design on a budget. Consider these decorating ideas:
Combine Door Styles
Mixing two complementary door styles adds character. Try glass fronts on select uppers or beadboard on an island. **Add Architectural Molding ** Crown molding, light rails, and trimwork build architectural detail. Great for elegant, traditional spaces.
Incorporate Open Shelving
Open shelves layered with accent pieces create visual interest. Try glass doors on wall cabinets.
Use Two-Tone Finishes
Pair a lighter cabinet color on top with rich, dark lowers for definition. Or choose a bold island color.
Highlight with Hardware
Update existing cabinets by installing new knobs, pulls, or handles. Go bold, edgy or sleek.
Paint Inside Cabinets
Continue wall color inside or go dramatic with a contrasting hue.
Finish End Panels
Stained, painted, or wallpapered end panels build a custom look.
Personalize with Glassware
Glass front cabinets neatly show off dishware and become a decor feature. With some creativity, Ready to assemble cabinets offer unlimited potential for achieving a designer kitchen on a DIY budget. Carefully planning your aesthetic will lead to stunning results.
FAQs About Ready to assemble cabinets
Q: Are Ready to assemble cabinets lower quality than custom cabinets?
A: Not necessarily. Well-made Ready to assemble cabinets utilize quality plywood boxes, solid wood parts, and sturdy hardware comparable to custom cabinetry. The difference is mainly in assembly method. Inspect materials and construction to identify high-quality Ready to assemble cabinets.
Q: Can RTA cabinet layouts be customized?
A: Most RTA companies offer some size customization such as adjusting height or reducing cabinet depth. Completely custom layouts may not be possible. Look for a large size selection or brands that make cabinets to order.
Q: How difficult is it to assemble Ready to assemble cabinets?
A: Difficulty level depends on personal DIY experience and the quality of instructions provided. Basic skills with tools, reading instructions carefully, and taking your time ensure proper assembly. Seek help for large cabinets.
Q: Should I hire a contractor to install my Ready to assemble cabinets?
A: Professional installation ensures your cabinets are leveled, secured properly, and have a seamless fit. But it also increases cost significantly. With care, you can install DIY, especially with a helper.
Q: Can any damages be fixed after RTA cabinet assembly?
A: Minor damages like dents or scratches can be repaired yourself. But major damage or defects likely require replacing the cabinet. Keep all packaging until cabinets are fully assembled and examined.
Q: How long should quality Ready to assemble cabinets last?
A: Properly assembled Ready to assemble cabinets of good quality should last 15-20 years or more with care. Opting for plywood boxes, solid wood parts, and sturdy hardware maximizes longevity.
Q: Is it possible to match existing cabinets with new Ready to assemble cabinets?
A: Finding an exact match is difficult, but you can come close. Send cabinet door samples to companies and request finish samples to compare. Expect variation in aging and grain.
Q: Can I customize just certain Ready to assemble cabinets like over the stove or fridge?
A: Yes, most companies allow you to fully customize the dimensions and accessories for specialty cabinet solutions while keeping other cabinets stock.
Q: Are delivery costs for Ready to assemble cabinets included?
A: No, you'll typically pay an additional delivery/shipping fee based on distance. Some companies offer free shipping on your first order or over a certain dollar amount. Confirm fees upfront.
Conclusion
Ready to assemble cabinets provide an affordable way to renovate your kitchen while still offering style and customization. Focus on identifying quality materials and construction to get durable cabinets that function well and look beautiful. With proper assembly and installation, Ready to assemble cabinets offer huge value over built-in cabinet replacement. The key is doing your homework on the many brands available to maximize quality and minimize issues. Investing in high-end Ready to assemble cabinets saves thousands over custom versions, so you can stretch your kitchen remodel dollars further.