Welcome to our overview of the latest high-contrast luxury kitchen designs. This week we will be showcasing three stunning kitchens that use bold color combinations and dramatic textures to create eye-catching focal points. From sleek monochromatic schemes to vibrant pops of color, these kitchens demonstrate creative ways to incorporate high-contrast elements into a luxe design aesthetic. Read on for an in-depth look at the elements that make these kitchens shine.
High-Contrast Kitchens: An Introduction
High-contrast kitchens utilize complementary colors, varied textures, and dramatic lighting to create visual interest and depth. This design style combines elegance with edge, bringing together luxurious materials and avant-garde color combinations. The key is balancing rich, warm neutrals with bold accent shades that pop.
Some hallmarks of a high-contrast luxury kitchen include:
A neutral backdrop (often white, black, or gray) that allows bolder colors to stand out
Punctuating a subdued scheme with vibrant hues like crimson red or cobalt blue
Juxtaposing sleek and shiny surfaces like metal or glass against organic, natural materials like wood or stone
Using tone-on-tone variations (different shades of one color) to add subtle depth
Incorporating dynamic patterns and textures like chevron tiles or marble countertops
Playing with light and shadow to highlight architectural details
When done well, these kitchens have a glamorous, cutting-edge feel that packs a visual punch. Thoughtful planning is required to keep the look from feeling chaotic or overwhelming. Next we'll look at three stellar examples of luxe high-contrast kitchen design.
Monochrome Minimalism in New York
Our first featured kitchen combines crisp, neutral tones with bold geometric patterns to create an elegant minimalist look. Designed by deVol Kitchens, this space is located in a New York City penthouse apartment.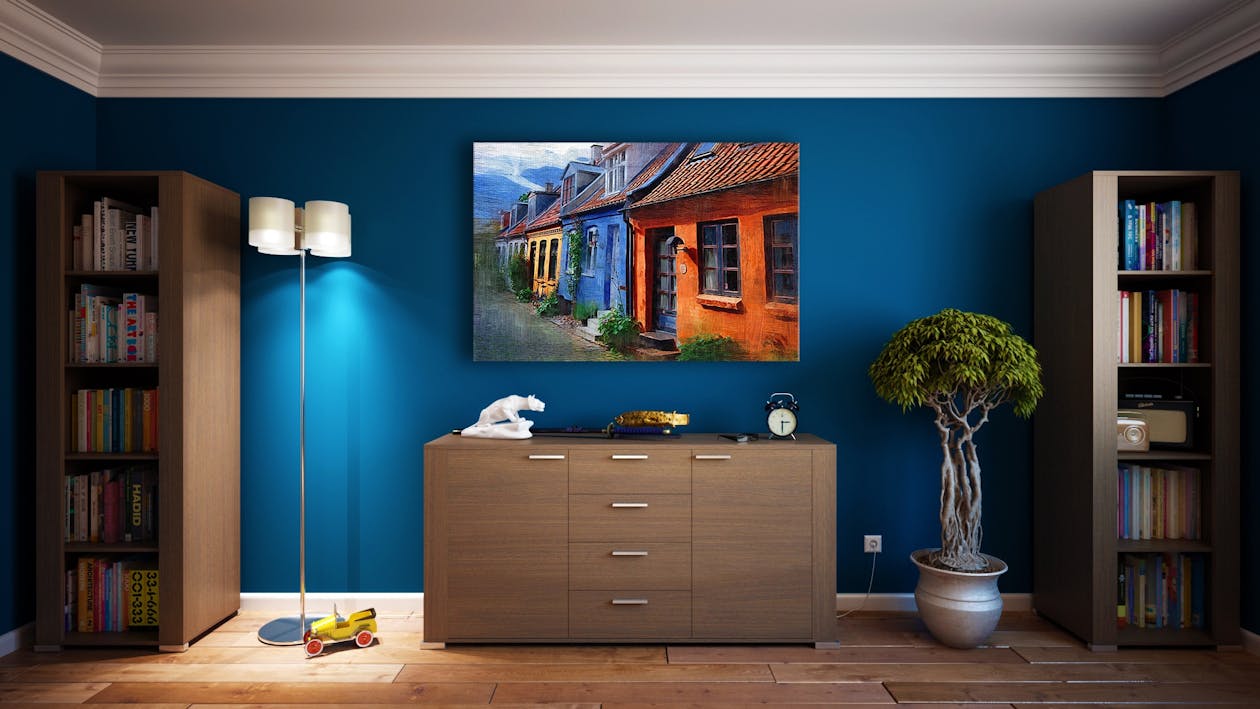 A monochrome kitchen with marble counters and brass accents. Photo by Ricardo Esquivel from Pexels.
The main surfaces establish a soft black, white, and gray palette. White Calacatta marble countertops provide an elegant neutral base, while dark cabinetry and kitchen island ground the space. The backsplash introduces the first pops of high-contrast drama: bold black and white chevron tile.
Brass accents add a luxe metallic sheen, seen in the range hood, sconces, and hardware. The brass plays well off the gray wooden floor, providing a subtle color variation. Finally, the black windows, door, and ceiling create moody contrast against the white marble surfaces.
This kitchen keeps the color scheme limited, but still packs visual impact by playing with textures and geometric shapes. The chevron backsplash and circular light fixtures make a statement against the clean marble lines. While dark and neutral, this space feels open and airy thanks to abundant natural light.
Key elements creating high-contrast:
Black and white chevron tile backsplash
Dark cabinetry and island against light counters/floors
Circular brass lights pop against black surfaces
Varying matte and shiny textures
This kitchen proves that a subdued neutral scheme can still deliver plenty of drama. The thoughtful composition allows each textural element to pop in the limited color palette.
Contemporary Colorblocking in Miami
If the previous kitchen epitomized minimalism, this lively Miami kitchen embraces vibrant maximalism. Designed by Southerland Inc., this kitchen employs colorblocking to craft a contemporary, high-energy space.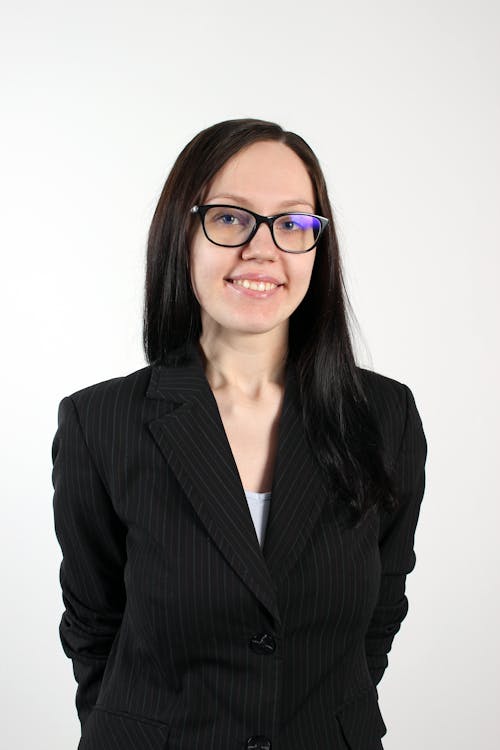 A brightly colored kitchen with blue lower cabinets and red upper cabinets. Photo by Engin Akyurt from Pexels.
The kitchen is divided into two distinct color zones. The lower cabinets and island base sport an electric cobalt blue, while the upper cabinets and shelves pop in cherry red. Stainless steel provides transition between the color blocks, seen in the appliances, vent hood, and prep sink.
To balance the vibrant palette, the countertops use stately white and gray marble. The marble's organic texture also offsets the lacquered cabinetry. Pops of gold enliven the scheme through the faucets, lights, and barstools.
This kitchen revels in playful theater, but it avoids chaotic overkill through smart color placement. The eye is drawn to contrasting focal points like the red shelves holding brightly colored dishware. Clever lighting spotlights key working areas without competing with the color scheme.
Key elements creating high-contrast:
Vibrant blue and red colorblocking
Glossy lacquered cabinets against natural marble
Stainless steel as a neutral transition
Gold accents for touches of shine
Focused lighting on work zones
This kitchen proves a vibrant color palette can still look luxe when grounded in elegant materials. The strategic color placement and dynamic textures create an exhilarating, modern look.
Moody Drama in London
Our final kitchen brings high-contrast elements together for serious drama. Located in a London townhouse, this luxury kitchen designed by Mark Wilkinson Furniture oozes decadent sophistication.
A dark gray and white kitchen with marble countertops. Photo from Pexels.
At first glance, the palette seems simple: white cabinetry atop a dark gray floor. But a closer look reveals the textures and details that make this space sizzle.
The white lacquer cabinetry has a glossy shine that catches the light. Blackened steel countertops provide industrial edge, while the dark wood island offers warmth. The high-contrast drama builds through the backsplash: bold black marble with thin white veining.
Brass accents link the dark woods and blackened steel, seen in sconces, cabinets pulls, and appliances. Mirror-finish subway tiles on the far wall reflect light in a unique way, opening up the monochromatic scheme.
Key elements creating high-contrast:
Glossy white lacquer cabinets against dark floors
Blackened steel countertops with warm wood island
White-veined black marble backsplash
Brass accents tying dark textures together
Reflective subway wall tiles
This moody, luxurious kitchen uses mostly neutral elements but combines textures and sheens for maximum contrast. The thoughtful details give this monochromatic scheme richness and personality.
Design Tips for High-Contrast Kitchens
If these stunning kitchens have inspired you to try a high-contrast look, keep these tips in mind:
Combine matte, shiny, smooth, and textured surfaces – Contrasting textures create visual interest within a limited color palette. Pair lustrous cabinetry with organic slab countertops, for example.
Use neutrals as a base – A neutral backdrop helps bolder colors and patterns pop without becoming overwhelming. Start with black, white, or gray tones.
Add pops of vibrant accent colors – Use bold hues in smaller doses as backsplashes, barstools, appliances or cabinetry. Opt for complementary colors on the color wheel for harmonious combos.
Repeat a metallic element – Use one gleaming material like brass, chrome or nickel throughout to unify the contrasting textures with shine.
Play with lighting – Use high-contrast lighting to spotlight certain features or create a moody vibe. Try black pendants over a marble-topped island.
Balance dark and light tones – Counterbalance deep hues like charcoal or jet black with plenty of white. The contrasts will seem less jarring.
Keep countertops neutral – For a naturally elegant look, use marble, soapstone, or quartz counters to anchor more dramatic cabinetry.
Creating a well-designed high-contrast kitchen requires thoughtfulness, precision, and care in selecting each element. If done successfully, these kitchens make an undeniably glamorous statement.
FAQ About High-Contrast Luxury Kitchens
Here are answers to some frequently asked questions about creating a high-end kitchen with bold, contrasting elements:
Is a high-contrast kitchen hard to design?
It can be challenging to design, but stunning when executed well. The key is careful planning of color combinations, textures, and lighting. Start with an inspirational image and build up the details thoughtfully. Hire an experienced kitchen designer if you need guidance.
What color cabinets work best?
Neutrals like white, black, or gray make the best base colors. They recede to let bolder tones stand out. A darker base color will feel more moody and dramatic.
How do I pick accent colors?
Choose accent colors from the opposite side of the color wheel, like blue and orange. Complementary colors naturally create visual interest. Keep accents to smaller doses like in a backsplash.
What about countertops?
Natural stone like marble or granite works well, as does quartz. The organic patterning and texture contrast beautifully with sleek cabinetry. Neutral tones keep the focus on more colorful accents.
Should I mix finishes?
Absolutely. Contrasting metal finishes (like brass and chrome), glossy and matte cabinets, or smooth countertops and rough brick backsplashes all add interest. Just don't let it feel too chaotic.
What lighting works best?
Mix up lighting styles to create a unique look. Try vintage pendants over an island, accent lighting under upper cabinets, rail lighting, and decorative fixtures. Use dimmers to set the perfect ambiance.
Inspiring High-Contrast Luxury Kitchens: The Takeaway
The three luxe kitchens we examined prove that combining rich neutrals with bold, contrasting accents creates a spectacular high-end look. Darker tones, vivid hues, varied textures, and metallic shine all add visual drama and personality. Complementary colors and mindful organization keep the style feeling elegant rather than overdone.
High-contrast kitchens make a glamorous statement, while still remaining highly functional spaces to cook, entertain and gather. For a look that's equally dramatic and timeless, incorporate contrast and balance with care. Use high-end finishes that will stand the test of time. With thoughtful planning, your high-contrast kitchen will deliver enough wow-factor to be envied for years to come!
We hope you enjoyed this peek at the latest in elegantly edgy kitchen design. Let us know if you have any other questions about creating the luxury kitchen of your dreams. Our team is always here to provide design insight and recommendations. Feel free to reach out anytime. Thanks for reading!